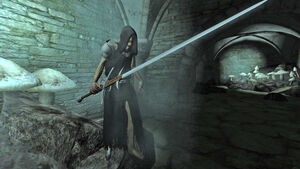 Back to Creatures
Statistics
Edit
Lvl
Type
EP
Respawn
Soul
Editor ID
18
Undead
270
12
80
180
No
Common
18Akolyth
23
Undead
330
12
80
230
No
Common
23Akolyt
23
Undead
330
12
80
230
No
Common
23AkolytWhite
Type of attack
Immunity
Weakness
Melee, Magic
see description
see description
Drops
Steel Claymore
Description
Edit
Attack:
Blinding Flash (Level II)
Frost Damage
Has the Ability Resist magic:
Reflect Damage 15%
Resist Disease 100 %
Resist Frost 20 %
Resist Magic 10 %
Resist Poison 100 %
Absorb Damage 15%
Weakness to Fire 25%
Notes/Tips
Edit
The third type 23AkolytWhite is found only in Zerobilon.
Ad blocker interference detected!
Wikia is a free-to-use site that makes money from advertising. We have a modified experience for viewers using ad blockers

Wikia is not accessible if you've made further modifications. Remove the custom ad blocker rule(s) and the page will load as expected.