Back to Places
Description
Edit

A hideout for Alcazar. The ruin can be entered with or without the side quest A Fiery Welcome. The place is a bit complex, as to open some passages you need to activate Crystal Columns (in the very first room) and Switches (scattered around the ruins) until you finally open the final secret passage (the one in an area with green glowing crystals) and meet with the Alcazar herself. The ultimate reward for finishing the dungeon is the Key to Zerobilon , a very dangerous location. A detailed walthrough for the ruins can be found in the description of the Fiery Welcome .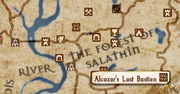 Alcazar's Last Bastion is located east of Salen , on the southern road through the Forest of Salathin, at the very southeastern corner of the path.
Occupants
Edit
Items/Rewards
Edit
Other Armor/Apparel

Potions

Scrolls

Other Weapons/Ammunition

22 Iron Arrow (on Alcazar)
Silver War Hammer
Silver War Axe
Big Steel Warhammer

Chests/Containers

Plants
Coordinates for Map marker: Herbstwald (2, 10)
Occupants
Edit
Items found
Edit
Plants
Levels/Rooms
Edit
One level, medium ruin.
Cel name: Alcazar's Last Bastion - Editor ID: AlcazarsLetzteBastion
Tips/Notes
Edit
Ad blocker interference detected!
Wikia is a free-to-use site that makes money from advertising. We have a modified experience for viewers using ad blockers

Wikia is not accessible if you've made further modifications. Remove the custom ad blocker rule(s) and the page will load as expected.