Back to Places
Description
Edit

A small farm property of Shepherd Andrusch, a farmer and sheep Shepherd. This place is also part of a Side quest called The moon sheep.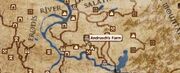 Far east on the main road from Giliad.
Coordinates for Map marker: Weide -4, 6 .
Occupants
Edit
Items Found
Edit
Chest/Containers
Crate with corn
Chest with random clutter
2 Barrels with random clutter
5 Crates with random low items
Crate with random food items
Plants
You can find the Poison Flask (one of the quest stages) in the stables, after climbing the ladder there. The poison is in the crate with Corn.
Ad blocker interference detected!
Wikia is a free-to-use site that makes money from advertising. We have a modified experience for viewers using ad blockers

Wikia is not accessible if you've made further modifications. Remove the custom ad blocker rule(s) and the page will load as expected.