Back to Places
Description
Edit

Apple Horn Court is an apple farm found along the coast of Cape Aman.
The place consist of the big house Apple Horn Yard and two other houses, probably workspaces with no access. The chief of Apple Horn Court is Kunibarth Aman. At the base of the house is the entrance to the Cellar and from here a hidden door that leads to Apple Horn Court - Mine. Probably this small village is smuggling apples (where to or from is it unknown).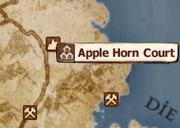 On the east coast near Cape Aman, on top of the cliff.
Coordinates for Map marker: Apfelhornhof (14, 12)
Occupants
Edit
NPCs
There is not any service here.
Items Found
Edit
Special
Ingredients
Containers
Plants
Buildings
Edit
Ad blocker interference detected!
Wikia is a free-to-use site that makes money from advertising. We have a modified experience for viewers using ad blockers

Wikia is not accessible if you've made further modifications. Remove the custom ad blocker rule(s) and the page will load as expected.