Back to Places
Description
Edit

The way to this place is full of potential encounters with undead, undead mages(liches), golems, wolves, spiders and bandits. Bring your best weapons, you'll be glad you did it if you love some frontal assaults, people who love sneaking might also get into some real trouble.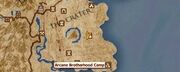 Located at the south side of The Crater .
Coordinates for Map marker: ArkaneBruderschaftLager 8, -24
Occupants
Edit
NPCs
Items/Rewards
Edit
Armour Sets

Enchanted Armour/Apparel/Ammunition

Enchanted Weapon

Other Armor/Apparel

Books

Apparatuses

Chests/Containers
Tips/Notes
Edit
Ad blocker interference detected!
Wikia is a free-to-use site that makes money from advertising. We have a modified experience for viewers using ad blockers

Wikia is not accessible if you've made further modifications. Remove the custom ad blocker rule(s) and the page will load as expected.