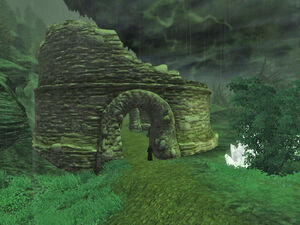 Back to Places
Description
Edit

Border Fort Ruin is a fort through which you must pass on the way to Ostian. There is not much here except two Exiles in ambush.
On the road from Southrealm Border Station to Ostian, in the Crater area, immediately right of village of Eltridor.
Coordinates for Map marker: Wilderness 1, -16
Occupants
Edit
NPC's
Tips/Notes
Edit
Ad blocker interference detected!
Wikia is a free-to-use site that makes money from advertising. We have a modified experience for viewers using ad blockers

Wikia is not accessible if you've made further modifications. Remove the custom ad blocker rule(s) and the page will load as expected.