Back to Crafting
Description
Edit

Cooking can be done only in a fireplace that can be activated. Those fireplaces are found in most houses and taverns around Nehrim. It requires level 20 crafting and no tools..
Material Required
Edit
Acquiring Material
Edit
Loot animals after killing them.
Found in various containers or buying/stealing them.
Harvest plants and beehives.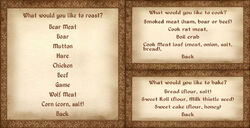 Ad blocker interference detected!
Wikia is a free-to-use site that makes money from advertising. We have a modified experience for viewers using ad blockers

Wikia is not accessible if you've made further modifications. Remove the custom ad blocker rule(s) and the page will load as expected.