Back to Places
Description
Edit

When visitng Darlan before the Main quest The Liberation , it is in ruins and totally devastated by the occupying Middlerealm Soldiers. The village becomes rebuilt with time, after you liberate the Castle Darlan .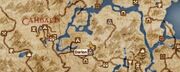 South of
Cahbaet
on the road to
Mortram
.
Coordinates for Map marker: Wilderness (-25, 19)
Occupants
Edit
During occupation
Edit
After the liberation
Edit
Items Found
Edit
East of the castle is a place with chest guarded by a Ghoul.
Ad blocker interference detected!
Wikia is a free-to-use site that makes money from advertising. We have a modified experience for viewers using ad blockers

Wikia is not accessible if you've made further modifications. Remove the custom ad blocker rule(s) and the page will load as expected.