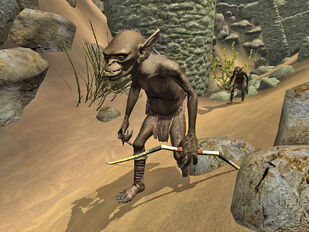 Statistics
Edit
Lvl
Type
EP
Respawn
Soul
Editor ID
35
Creature
280
60
0
340
No
Petty
35Wuestengoblin
35
Creature

280

60
0
340
Yes
Petty
35WuestengoblinSchuetze
Type of attack
Immunity
Weakness
Melee, ranged
N/A
N/A
Drops
See description
Description
Edit
Items Dropped
Edit
They all drops random Items (chance 30%) that consist of:
Potions
Ingredients
Other
The melee Desert Creature drops also Troll Club.
The archer drops always Solid Battle Bow and 55 Silver Arrows.
Notes/Tips
Edit
Ad blocker interference detected!
Wikia is a free-to-use site that makes money from advertising. We have a modified experience for viewers using ad blockers

Wikia is not accessible if you've made further modifications. Remove the custom ad blocker rule(s) and the page will load as expected.