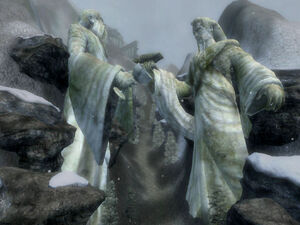 Back to
Places
Description
Edit

A pass under two huge statues guarded by Bandits.
In The Great Nord Cleft, on the main road, after going over the Bridge of Stera .
Coordinates for Map marker: Zwergentor (-36, 19)
Occupants
Edit
NPCs
Items/Rewards
Edit
Items dropped by Bandits are found on proper page.
Tips/Notes
Edit
Ad blocker interference detected!
Wikia is a free-to-use site that makes money from advertising. We have a modified experience for viewers using ad blockers

Wikia is not accessible if you've made further modifications. Remove the custom ad blocker rule(s) and the page will load as expected.