Back to Places
Description
Edit

A village outside of Erothin .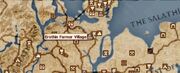 Directly south of Erothin, within sight of the Chapel Outside Erothin.
Occupants
Edit
NPCs
Creatures
Items Found
Edit
There are many agricultural fields and vegetable gardens where you can harvest:
Carrot Plant, Corn Stalk, Grape Vine, Leek Plant, Lettuce Plant, Potato Plant, Pumpkin Vine, Radish Plant, Tomato Plant, Wheat Sheaf.

Regular Items

Special Items

Pickpocketed Items
Tips/Notes
Edit
Ad blocker interference detected!
Wikia is a free-to-use site that makes money from advertising. We have a modified experience for viewers using ad blockers

Wikia is not accessible if you've made further modifications. Remove the custom ad blocker rule(s) and the page will load as expected.