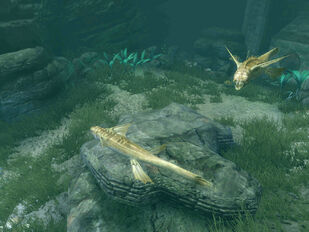 Statistics
Edit
Lvl
Type
EP
Respawn
Soul
Drops
27
Creature
350
45
0
270
No
Petty
N/A
Type of attack
Immunity
Weakness
Melee
N/A
N/A
Editor ID
27Flossenfetzer
Description
Edit
Notes/Tips
Edit
Fact - The Barracuda are very dangerous to divers wearing shiny objects as they strike out at anything that glitters. The largest of them, the great barracuda, averages 5 ft (1.5m) in length but may reach 10 ft(3m). Remember to take that watch off if snorkerling.
Ad blocker interference detected!
Wikia is a free-to-use site that makes money from advertising. We have a modified experience for viewers using ad blockers

Wikia is not accessible if you've made further modifications. Remove the custom ad blocker rule(s) and the page will load as expected.