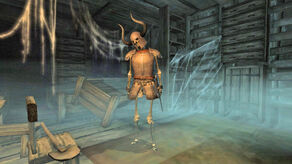 Back to Creatures
Statistics
Edit
Lvl
Type
EP
Respawn
Soul
Drops
25
Undead
320
9
0
240
No
Petty
See description
Type of attack
Immunity
Weakness
Melee
See description
N/A
Editor ID
22UNIVorarbeiterMuc - 001F4823
Description
Edit
Foreman Muc is found in the second section of Steel Rail Mine. He holds the Steel Rail Key needed to progress further into the mine and wears the Mine Guard Gauntlets. He also wears a Berserker Helm and uses a Silver Shortsword.
He has the ability Undead Bone Resistances that means:
Resist Disease 100 %
Resist Frost 20 %
Resist Paralysis 100 %
Resist Poison 100 %
Items Dropped
Edit
Weapons
Armour/Apparel
Other
Notes/Tips
Edit
Ad blocker interference detected!
Wikia is a free-to-use site that makes money from advertising. We have a modified experience for viewers using ad blockers

Wikia is not accessible if you've made further modifications. Remove the custom ad blocker rule(s) and the page will load as expected.