Back to Places
Description
Edit

Fort Marris is a refugee place for the unlucky inhabitants of the nearest village Eltridor who get here after the magical contamination fleeing from Ostians templars. See Notice: Bericht aus Fort Marris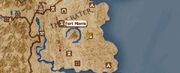 North part of The Crater, directly South of Tomb of Eltridor, and North East of Forgotten Mine.
Occupants
Edit
Creatures
Boss
Items/Rewards
Edit
List of items found "on sight" or dropped by enemies.
Armour Sets

Enchanted Armour/Apparel/Ammunition

Other
Other Armor/Apparel

Other Weapons/Ammunition

Potions

Books

Ingredients

Apparatuses

Other

3 Lockpick
34 Gold (on Mayor Fred)
Treasure Chests
Edit
Coordinates for Map marker: Wilderness 2, -18
Occupants
Edit
Levels/Rooms
Edit
One level, medium ruin.
Cel name. Fort Marris - Editor ID: FortMarris
Tips/Notes
Edit
Ad blocker interference detected!
Wikia is a free-to-use site that makes money from advertising. We have a modified experience for viewers using ad blockers

Wikia is not accessible if you've made further modifications. Remove the custom ad blocker rule(s) and the page will load as expected.