Back to Places
Description
Edit

Abandoned fortress on the old road between The Southrealm and The Middlerealm. Under the fortress is a burned village and few robbers are the only inhabitants.
The first part of the fortress is populated by undeads. There is another level The Soulforge that is connected with the Main quest In the Jail of Souls and is accessible when starting the quest.
On the north border of The Desert and the south border of Fold Valley, west of The Mana Catalyst - Upper Level.
Occupants
Edit
Creatures
Items/Rewards
Edit
Special Loot

Magic Items

Armour

Weapons/Ammunition

Potions

Scrolls

Valuables

Other

Chests/Containers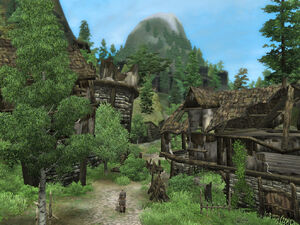 Coordinates for Map marker: VerschuetterSuedpass (-9,-16)
Occupants
Edit
Items found
Edit
Plants
Chests/Containers
Levels/Rooms
Edit
One level, medium place.
Cell name:Southern Pass Fortress - Editor ID: MQ38Suedpassfestung
It is implemented by the Patch 1.5.
However, access is not possible to a small area of the interior (iron bars and no stairs),
as long as you haven't completed the 'In the Jail of Souls' quest (you will emerge there).
Ad blocker interference detected!
Wikia is a free-to-use site that makes money from advertising. We have a modified experience for viewers using ad blockers

Wikia is not accessible if you've made further modifications. Remove the custom ad blocker rule(s) and the page will load as expected.