Back to Places
Description
Edit

An old, huge crypt full of Undeads.Beware of the holes on the floor in a Statue room as the are not simple traps. If you fall into one of these, you will instantly die. There is an Alcove with the Silver Claymore and Potions very high on the wall. You must shoot them with bow to get them.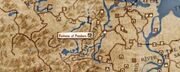 South of The Gate of Cahbaet , on the road through The Death Pass.
Occupants
Edit
Creatures
Items/Rewards
Edit
Special Loot

Armour Sets

Weapons

Silver Claymore
Silver Bow

Potions

Chests/Containers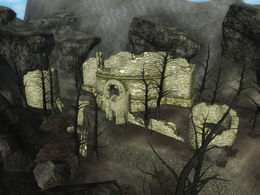 Coordinates for Map marker: Wilderness (-20, 15)
Occupants
Edit
Items found
Edit
Plants
Levels/Rooms
Edit
One level, large place.
Cell name: Crypt Of Pandorn - Editor ID: PandornGruft01
Tips/Notes
Edit
For some (unknown) reason the place is marked like Camp.
Ad blocker interference detected!
Wikia is a free-to-use site that makes money from advertising. We have a modified experience for viewers using ad blockers

Wikia is not accessible if you've made further modifications. Remove the custom ad blocker rule(s) and the page will load as expected.