Back to Places
Description
Edit

A small village in the Middlerealm with a tavern and a Safe Storage Chest.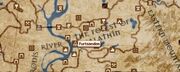 North of Giliad (on the main road).
Location for Map marker: Furtsanden -6, 11
In Purling Erodis Tavern you can find a board with some notices. Reading them will give you two quests (if you do not have them yet):
Occupants
Edit
Secure chest is located a bit west of Antonia's Coach, near the wall.
There is no teleport for Furtsanden.
Buildings
Edit
Items Found
Edit
There is not much to find in Furtsanden.
Containers
Plants
Behind the Antonia's Coach is a beehive where you can harvest Honey.
Ad blocker interference detected!
Wikia is a free-to-use site that makes money from advertising. We have a modified experience for viewers using ad blockers

Wikia is not accessible if you've made further modifications. Remove the custom ad blocker rule(s) and the page will load as expected.