Back to People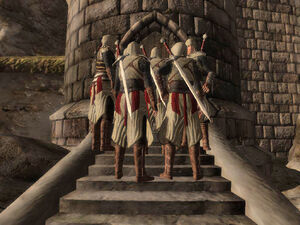 Statistics
Edit

| | | | | | | | | |
| --- | --- | --- | --- | --- | --- | --- | --- | --- |
| Nb | Lvl | | Race | Class | Gender | Respawn | FormID | Editor ID |
| 1 | 60 | 600 | Alemanne2 | Guard | Male | Yes | 001D89C8 | OstianWachePlatz01 |
| 2 | 60 | 600 | Alemanne2 | Guard | Male | Yes | 001D89C9 | OstianWachePlatz02 |
| 3 | 60 | 600 | Alemanne2 | Guard | Male | Yes | 001D89CA | OstianWachePlatz03 |
| 4 | 60 | 600 | Alemanne1 | Guard | Male | Yes | 001D89CB | OstianWachePlatz04 |
| 5 | 60 | 600 | Alemanne1 | Guard | Male | Yes | 001D89CC | OstianWachePlatz05 |
| 6 | 60 | 600 | Alemanne1 | Guard | Male | Yes | 00226AFF | OstianWacheBruecke01 |
| 7 | 60 | 454 | Alemanne1 | Warrior | Male | No | 001EEBD7 | MQ28Wache01 |
| 8 | 60 | 454 | Alemanne1 | Warrior | Male | No | 001EEBD0 | MQ28Wache02 |
| 9 | 60 | 454 | Alemanne1 | Warrior | Male | No | 001EEBD1 | MQ28Wache03 |
| 10 | 60 | 454 | Alemanne1 | Warrior | Male | No | 001EEBD2 | MQ28Wache04 |
| 11 | 60 | 454 | Alemanne1 | Warrior | Male | No | 001EEBD3 | MQ28Wache05 |
| 12 | 60 | 454 | Alemanne1 | Warrior | Male | No | 001EEBD4 | MQ28Wache06 |
| 13 | 60 | 454 | Alemanne1 | Warrior | Male | No | 001EEBD5 | MQ28Wache07 |
| 14 | 60 | 454 | Alemanne1 | Warrior | Male | No | 001EEBD6 | MQ28Wache08 |
Description
Edit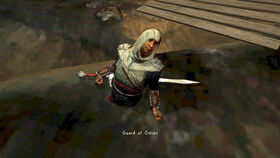 The Guards of Ostian wear an unplayable Light Temple Robe and Cap of the temple guards. Their weapons is Fine Steel Two - Handed Sword. They sleep in Ostian, Barracks.
Items Dropped
Edit
Fine Steel Two-Handed Sword
Notes/Tips
Edit
Ad blocker interference detected!
Wikia is a free-to-use site that makes money from advertising. We have a modified experience for viewers using ad blockers

Wikia is not accessible if you've made further modifications. Remove the custom ad blocker rule(s) and the page will load as expected.