Description
Edit

Ice Tower Plain, plateau east of Arcane Sanctum.
Occupants
Edit
Barter
Spell Merchant - here you can buy the spells Mark and Recall
Training in Alteration, Destruction, Illusion, Mysticism and Restoration
Fireplace (T) for cooking
The bed is free
Items Found
Edit
Ingredients
Potions
Containers
Coordinates for Map marker : Einsamehuette 2, 7
Items Found
Edit
Plants
The place consist of two rooms.
Cell name: Snow Witch's House
Editor ID: HausDerSchneehexe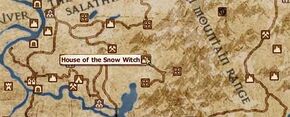 Ad blocker interference detected!
Wikia is a free-to-use site that makes money from advertising. We have a modified experience for viewers using ad blockers

Wikia is not accessible if you've made further modifications. Remove the custom ad blocker rule(s) and the page will load as expected.