Back to Places
Description
Edit

A lighthouse on the top of the hill. A bit south is situated a nice viewpoint and vegetable garden. The lightouse is called The Beacon.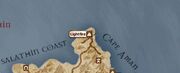 Extreme north of
the Middlerealm
, on the top of
Cape Aman
..
Coordinates for Map marker: Leuchtfeuer (10, 24)
Occupants
Edit
Items found
Edit
Vegetable garden with:
Plants
Viewpoint
Edit
The Beacon
Edit
Items found
Edit
Ingredients

Other

Books

Valuables

Chests/Containers

Chest with random clutter
Chest Gold 20 (respawn)
Chest with random food items
5 Barrels with random clutter
7 Barrels with random food items
Cupboard with random low items
Potions

Other

Ingredients

Chests/Containers

5 Barrels with random low items
2 Barrels with random clutter
2 Crates with random clutter
3 Crates with random food items
15 empty Oil Barrel
Lighthouse, Stairs (Top)
Levels/Rooms
Edit
The lighthouse consist of three floors.
Cell name: The Beacon - Editor ID: Leuchtturm
Cell name: Lighthouse, Stairs - Editor ID: LeuchtturmTreppe
Cell name: Lighthouse, Stairs - Editor ID: LeuchtturmSpitze
All the containerrs in the lighthouse respawn, and so empty Oil Barrel as well.
Ad blocker interference detected!
Wikia is a free-to-use site that makes money from advertising. We have a modified experience for viewers using ad blockers

Wikia is not accessible if you've made further modifications. Remove the custom ad blocker rule(s) and the page will load as expected.