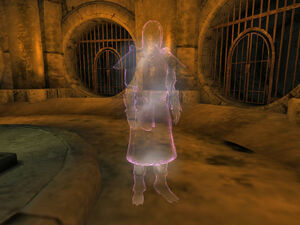 Back to People
Statistics
Edit

| | | | | | | | | |
| --- | --- | --- | --- | --- | --- | --- | --- | --- |
| Lvl | | | Race | Class | Gender | EP | ID | Editor ID |
| 35 | 650 | | | | | | | |
| Type of Attack | Immunity | Weakness |
| --- | --- | --- |
| Melee/Magic | | |
Description
Edit
Mage Guard is an Aeterna (or possibly Human) Ghost who guards the Storage Annex of Treomar. He attacks with a Silver Battle Axe and has a scroll and the Key to Storage Annex of Treomar on his person. He can be encounterd during The Family Tree Tablets quest.
Items Dropped
Edit
Weapons
Armour/Apparel
Potions
Scrolls
Ingredients
Other
Notes/Tips
Edit
Ad blocker interference detected!
Wikia is a free-to-use site that makes money from advertising. We have a modified experience for viewers using ad blockers

Wikia is not accessible if you've made further modifications. Remove the custom ad blocker rule(s) and the page will load as expected.