Back to Places
Description
Edit

Mahrnitz is a small village in the Northrealm mountains. The nearby Crypt Of Mahrnitz is conected to the side quest If the Mind is Strong, Then so is the Body. The citizens of Mahrnitz claim to have the best beer in the whole realm.
On the east side of the Northrealm.
South of The Dam .
The village is connected with the following quests:
Occupants
Edit
There is no teleport to Mahrnitz. The smith tools at the smith are unusable. Services
Items Found
Edit
Chests/Containers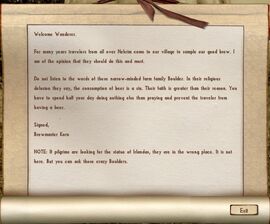 2 Barrels with random food items
Plants
Vegetable garden with:
Buildings
Edit
Other places
Edit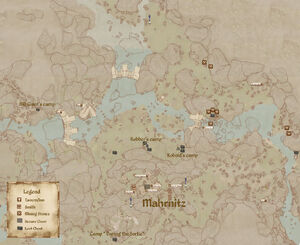 Ad blocker interference detected!
Wikia is a free-to-use site that makes money from advertising. We have a modified experience for viewers using ad blockers

Wikia is not accessible if you've made further modifications. Remove the custom ad blocker rule(s) and the page will load as expected.