Back to Places
Description
Edit

Dark mine occupated by Desert Creatures and Adult Pit Rats. There is one Fire Sparks (+1 Luck) outside. inside are a large amount of Wisp and Stinkhorn for harvest.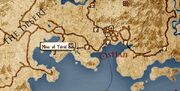 In The desert west of Ostian.
Occupants
Edit
Creatures
Items/Rewards
Edit
Special Loot

Enchanted Armour

Enchanted Weapon

Other Weapons/Ammunition

Potions

Scrolls

Other

Chests/Containers

Mining Stones

Plants
Coordinates for Map marker: MineYstryd -16, -25
Items found
Edit
Plants
Levels/Rooms
Edit
Only one level.
Place name: Mine Of Ystrid - Editor ID: NehrimMineYstrid
Notes/Tips
Edit
To enter the main part of the Mine you need lockpicks or a spell that opens very easy locks.
Be careful not to activate the Swinging Mace trap.
Ad blocker interference detected!
Wikia is a free-to-use site that makes money from advertising. We have a modified experience for viewers using ad blockers

Wikia is not accessible if you've made further modifications. Remove the custom ad blocker rule(s) and the page will load as expected.