Back to Places
Description
Edit

This is a rest of the old Abbey Brewery Of Pandorn, now infestated by Spiders and Undead. Part of the complex situated nearby: Fortress of Pandorn and Pandorn Chapel. There are two Gates to be opened, one is Easy, the other one Very Easy.
In the Northern Plains, south west of ruined city of Mortram. Follow the river.
Occupants
Edit
Creatures
Boss
Items/Rewards
Edit
Special Loot

Armour Sets

Enchanted Weapon

Armor

Apparatuses

Potions

Books

Ingredients

Scrolls

Chests/Containers

Plants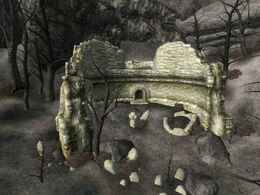 Coordinates for Map marker: Pandorn (-24, 15)
Occupants
Edit
Items found
Edit
Plants
Levels/Rooms
Edit
One level, medium place.
Cell name: Abbey Brewery Of Pandorn - Editor ID: PadradonPart01
Tips/Notes
Edit
Be careful while trying to squeeze through the Cocoons, you might get stuck among them.
Ad blocker interference detected!
Wikia is a free-to-use site that makes money from advertising. We have a modified experience for viewers using ad blockers

Wikia is not accessible if you've made further modifications. Remove the custom ad blocker rule(s) and the page will load as expected.