Back to Places
Description
Edit

A small place overrun by Bandids. There is only one house, Forge, that is entened, presently occupied by more Bandits. You can find a corpse on the upper level of the house.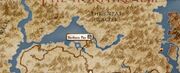 On the North coast of the Northrealm following the difficult road from Cahbaet to North.
Occupants
Edit
NPCs
Creatures
Items Found
Edit
Note
Items dropped by Bandits are found on proper page.
Inside the house are some forging equipment, like forge, bellows and allow, but you cannot use them.
Occupants
Edit
Items Found
Edit
Armor
Ingredients
Potions

Other

Chests/Containers
Levels/Rooms
Edit
One room with upper level.
Cell name: Forge - Editor ID: NordregionAusgeraubteSchmiede
Tips/Notes
Edit
Really just one house populated by bandits.
Ad blocker interference detected!
Wikia is a free-to-use site that makes money from advertising. We have a modified experience for viewers using ad blockers

Wikia is not accessible if you've made further modifications. Remove the custom ad blocker rule(s) and the page will load as expected.