Back to Places
Description

When approaching from south when near the bridge pay attention for Bandits / Robbers. Of the Northern Watch there is nothing but ruins in this lower area. On west side of the bridge is a small lake with nice items. Right along the river side is a open bandit cave. On following the road further ahead take a right turn in order to find the only ruin still standing, a small tower with two chests. After The Liberation the place is guarded by Aeterna Warriors.
Location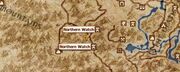 On the road from Mountain Monastery to Cahbaet, high in the Dividing clefts.
Coordinates for Map markers
Lower Northern Watch (Bridge) is located in exterior cell Nordwacht (-29, 12)
Upper Northern Watch (Tower) is located in exterior cell Berghut (-29, 14)
Occupants
Items/Rewards
Lower area

Treasure Chests

Sack with Lockpick and leveled Gold

Cave

Treasure Chests

Upper Area (Tower)

Treasure Chests

Chest with

Plants
Map
Tips/Notes
Ad blocker interference detected!
Wikia is a free-to-use site that makes money from advertising. We have a modified experience for viewers using ad blockers

Wikia is not accessible if you've made further modifications. Remove the custom ad blocker rule(s) and the page will load as expected.