Places
Description
Edit

The Old Temple Ruins are quest related and is possible to enter only starting the Main quest Search in Ruins. Inside is a secret door that leads to Ostian Palace.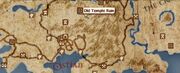 In
The Southern Higlands
, north of
Ostian
.
Occupants
Edit
Creatures
Items/Rewards
Edit
Potions

Health Potion
Magica Potion

Ingredients

Plants

Miscellaneous
Coordinates for Map marker: Wilderness (-8, 19)
Occupants
Edit
Items found
Edit
Levels/Rooms
Edit
One level, big ruin.
Cell name: Old Temple - Editor ID: MQ23AlteTempelanlagen
Notes/Tips
Edit
Ad blocker interference detected!
Wikia is a free-to-use site that makes money from advertising. We have a modified experience for viewers using ad blockers

Wikia is not accessible if you've made further modifications. Remove the custom ad blocker rule(s) and the page will load as expected.