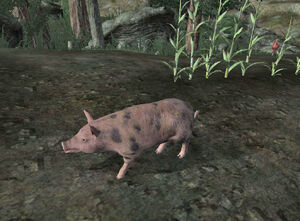 Back to
Creatures
Statistics
Lvl
Type
EP
Respawn
Soul
Editor ID
1
Creature
50
10
0
20
No↑
Common
01Schwein01
1
Creature
50
10
0
20
No↑
Common
01Schwein02
1
Creature
50
10
0
20
No↑
Common
01Schwein03
Type of attack
Immunity
Weakness
Melee
N/A
N/A
Drops
Ham
Description
↑Part of Leveled creatures, respawn.
Found
Notes/Tips
The only difference between Editor ID's is different nif files used.
Fact - Pigs rank #4 in animal intelligence behind chimpanzees, dolphins and elephants. Piglets learn their names by two to three weeks of age and respond when called.
Ad blocker interference detected!
Wikia is a free-to-use site that makes money from advertising. We have a modified experience for viewers using ad blockers

Wikia is not accessible if you've made further modifications. Remove the custom ad blocker rule(s) and the page will load as expected.