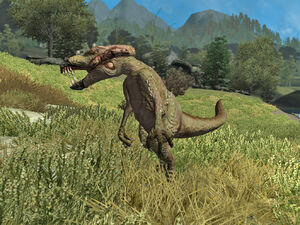 Back to Creatures
Statistics
Edit
Lvl
Type
EP
Respawn
Soul
Drops
38
Creature
430
70
0
380
Yes
Common
See description
Type of attack
Immunity
Weakness
Melee
Reflect damage 20%, Fire 33%
Wakness to Shock 20%
Editor ID
38Ebenenschreiter
Description
Edit
Has the Ability. Clannfear Armor - Reflect damage 20% and Daedric Nature - Resist fire 33% , weakness to Shock 20%.
Items Dropped
Edit
With learned Hunting Skill:
Notes/Tips
Edit
Ad blocker interference detected!
Wikia is a free-to-use site that makes money from advertising. We have a modified experience for viewers using ad blockers

Wikia is not accessible if you've made further modifications. Remove the custom ad blocker rule(s) and the page will load as expected.