Back to Places
Description
Edit

Ruins of Astardoth is an underground building with some creatures and good loot. In second level is a magic portal when approach say: "You have absorbed the portal's magickal power". (Temporarily Fortify Health.)
In Western Fold Valley, it is just West of Giliad.
Occupants
Edit
Hearth of Astardoth Part 1

Edit

NPCs

Creatures

Hearth of Astardoth Part 2

Edit

Creatures

Boss
Items/Rewards
Edit
Hearth Of Astardoth Part 1
Edit
Hearth Of Astardoth Part 2
Edit

Armour Sets

Enchanted Armour

Enchanted Weapon

Potions

Other

20 Gold (on Summoner Astardoth)

Chests/Containers

Plants
Coordinates for Map marker: Wilderness (-9, 4)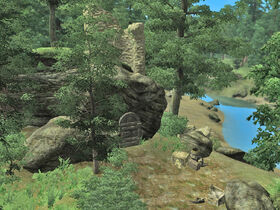 Occupants
Edit
Items found
Edit
Chests/ContainersEdit
Mound (west of the ruins) with:
Plants
Levels/Rooms
Edit
Two levels, medium ruin.
Cells name: Hearth Of Astardoth
Editor ID: AstardothPart01 - AstardothPart02
Tips/Notes
Edit
There are a lot of dark areas, try to sneak upon the enemy, especially the Summoner.
Though the Magic Symbol resides in the first part, it is only accessible through the second.
Ad blocker interference detected!
Wikia is a free-to-use site that makes money from advertising. We have a modified experience for viewers using ad blockers

Wikia is not accessible if you've made further modifications. Remove the custom ad blocker rule(s) and the page will load as expected.