Back to Places
Description

A two level ruin, packed with Aeterna Battlemages and one boss. Inside the fortress you will find two locked gates (Easy, Very Easy) and some Rotten Boards to remove in order to pass further.
Location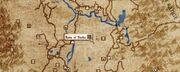 In Eastern Fold Valley, west of Thoian's Hideout .
Occupants
Level 1

NPCs

Creatures

Level 2

NPCs

Boss
Items/Rewards
Level 1
Special Loot

Books

Ingredients

Potions

Chests/Containers

Chest with random clutter
Chest with random potions - rancid
Crate with 4 Iron ore
Crate with random food items
2 Small Crate with random clutter
2 Sacks with Flour
Level 2

Note:
Exterior
Coordinates for Map marker: Wilderness (-5, -1)
Occupants
Items found
Chests/Containers
Plants
Levels/Rooms
Two levels, large ruin.
Level 1: Ruins of Narbu - Editor ID: NarbuPart01
Level 2: Ruins of Narbu - Editor ID: NarbuPart02
Maps
Tips/Notes
Ad blocker interference detected!
Wikia is a free-to-use site that makes money from advertising. We have a modified experience for viewers using ad blockers

Wikia is not accessible if you've made further modifications. Remove the custom ad blocker rule(s) and the page will load as expected.