Places
Description
Edit

A two-level dungeon. There is one Gate to lockpick (Easy). Outside the Fortress you can find Coal x12 on one of the upper levels of the ruins. Watch your step on the second level, as you might get considerably damaged by some falling logs.
West of the ruins is situated a Bandit Camp.
In Fold Valley, south of Stonefield , on the main road.
Occupants
Edit
Ruins of Raljien Level 1

Edit

NPCs

Creatures

Ruins of Raljien Level 2

Edit

Creatures

Boss
Items/Rewards
Edit
Ruins of Raljien Level 1
Edit
Stones

Enchanted Armor

Books

Ingredients

Chests/Containers

Chest with 10 Hammer (T) (respawn)
Chest with random low jewelry (respawn)
2 Crates with random clutter
Crate with random food items
Crate with Apple, Cloth and Shears
3 Small Crate with Health Potion- Rancid and Crumbled Paper
2 Sacks with 5 Gold
2 Wardrobe with random clothing and low jewelry (respawn)
Drawers with random clutter (respawn)

Plants
Ruins of Raljien Level 2
Edit

Special loot

Armor Sets

Enchanted Armor/Apparel

Enchanted Ammunition

Weapon

Chests/Containers

Plants
Note - Items dropped by Pickpocket of the Sildonar and Bandit of Sildonar are found on proper page.
Coordinates for Map marker: Wilderness (-12, 1)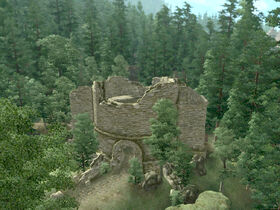 Occupants
Edit
Items found
Edit
Chests/Containers
Edit
Mound with:
Plants
Levels/Rooms
Edit
Two levels, medium ruin.
Cells name: Ruins of Raljien
Editor ID: RaljienPart01 - RaljienPart02
Tips/Notes
Edit
Ad blocker interference detected!
Wikia is a free-to-use site that makes money from advertising. We have a modified experience for viewers using ad blockers

Wikia is not accessible if you've made further modifications. Remove the custom ad blocker rule(s) and the page will load as expected.