Back to Places
Description
Edit

The place consist of two dungeons. The entrance of the first is on the south east part of the ruins.. The second bigger dungeon is up the hill to the north east. West of the ruins is a Bandit Camp with two bandits.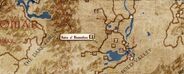 Just above Shadow Song Site .
Occupants
Edit
Boss
Items/Rewards
Edit

Enchanted Armor

Weapons

Books

Ingredients

Potions

Clothing

Buckled Shoes
Collared Shirt
Green Felt Linens

Other

13 Gold (on Leader Dargrol)

Chests/Containers
Coordinates for Map marker: RuinenRhamalion (-16, -5)
Occupants
Edit
Items found
Edit
Chests/Containers
Edit
Plants
Levels/Rooms
Edit
One level.
Cells name: Ruins of Rhamalion
Editor ID: RhamalionPart01 / RhamalionPart02
Tips/Notes
Edit
Ad blocker interference detected!
Wikia is a free-to-use site that makes money from advertising. We have a modified experience for viewers using ad blockers

Wikia is not accessible if you've made further modifications. Remove the custom ad blocker rule(s) and the page will load as expected.