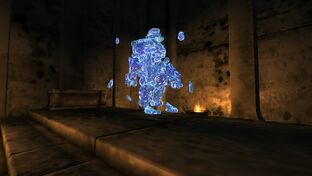 Back to Creatures
Statistics
Edit
Lvl
Type
EP
Respawn
Soul
Drops
20
Daedra
340
65
60
240
No
Greater
Ice Shield Sapphire, Frost Salt
Type of attack
Immunity
Weakness
Melee\Magic-Frost
Frost 20%, Frost Shield 20%
Fire 20%
Editor ID
24UNIRuktuk - 001F4824
Description
Edit
A powerful creature of water. Attack with Frost Arrow (Rank III) spell.
Items Dropped
Edit
Notes/Tips
Edit
Close by RukTuk is a corpse who if you loot gives up the following:
Mithril Boots
Silver Short Sword (close by)
Rusty Iron Greaves
Middlerealm Battlemage Hood (Fortify Destruction 8pts, Fortify Magica 10pts, Resist Frost 7%
Ring of Hope (Fortify Restoration 5pts on self, Fortify Intelligence 1pt on self).
Ad blocker interference detected!
Wikia is a free-to-use site that makes money from advertising. We have a modified experience for viewers using ad blockers

Wikia is not accessible if you've made further modifications. Remove the custom ad blocker rule(s) and the page will load as expected.