Back to Places
Description
Edit

A salt shack with an Aeterna salt salesman. Do you want weapons, armour, food, cookies, meat, potatoes? Too bad, this dude here sells only salt, and nothing but salt.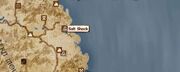 On the east coast behind Fortress of Aman.
Coordinates for Map marker: Wilderness 14, 15
Occupants
Edit
Items found
Edit
Chests
Ad blocker interference detected!
Wikia is a free-to-use site that makes money from advertising. We have a modified experience for viewers using ad blockers

Wikia is not accessible if you've made further modifications. Remove the custom ad blocker rule(s) and the page will load as expected.