Back to Easter Eggs > Places > Maps
Description
Edit

Once inside you will find yourself in a strange place with Kobolds and rotating cogs. There are also a few strange rooms, but only three of them are used. One of the rooms contains a little secret and even a big 'Killer Chicken'!
It's not easy to find this place. The entrance is located in a river between Erothin and Cahbaet. You have to dive deep in order to find the hatch.
Occupants
Edit
NPCs

Bosses

Creatures
Items/Rewards
Edit
Special Loot




Other

Other


Armour/Apparel

Weapons

Potions

Apparatuses

Ingredients

Books

Miscellaneous
Levels/Rooms
Edit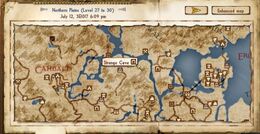 Tips/Notes
Edit
Ad blocker interference detected!
Wikia is a free-to-use site that makes money from advertising. We have a modified experience for viewers using ad blockers

Wikia is not accessible if you've made further modifications. Remove the custom ad blocker rule(s) and the page will load as expected.