Back to Places
Description
Edit

A small mine with some Iron deposits (Lode, Bonanza). Some of them are hidden behind rotten boards that you need to destroy in order to reach the deposit. The mine is guarded by a Sildonar Smuggler and a Bandit of Sildonar .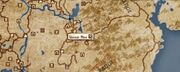 West of Arcane Sanctum, on the main road to East Pass.
Occupants
Edit
NPCs
Items/Rewards
Edit
Weapons

Ingredients

Clutter

Plate
Bowl
Stone Cup
Tan Pitcher

Scrolls

Chests/Containers

Mining Stones
Note
Coordinates for Map marker: Wilderness (3, -2)
Occupants
Edit
Items found
Edit
Treasure Chests
Levels/Rooms
Edit
One level, small place.
Cell name: Sinonar Mine - Editor ID: SinonarStollen
Tips/Notes
Edit
Ad blocker interference detected!
Wikia is a free-to-use site that makes money from advertising. We have a modified experience for viewers using ad blockers

Wikia is not accessible if you've made further modifications. Remove the custom ad blocker rule(s) and the page will load as expected.