Back to Places
Maps
Description
Edit

Old Mine consist of two parts. The first part is with the entrance from Ostian Palace and in the end you end up swallowed by a Cave Worm. When you exit the Cave Worm you enter the second part of the mine, just a very dark and gloomy tunnel which is completely empty.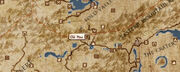 In the undergrounds with entrance from
Ostian Palace
and exit above
Fortress at the Collapsed South Pass
.
Occupants
Edit
Items/Rewards
Edit
Containers
Occupants
Edit
Nobody.
Items found
Edit
Plants
Coordinates for Map marker: Wilderness (-9, -15)
Occupants
Edit
Items found
Edit
Chests/Containers
Levels/Rooms
Edit
Two separate levels.
Cells name: Old Mine - Editor ID: MQ25AlteMinenstollen / MQ25AlteMinenstollenEnde
Notes/Tips
Edit
Ad blocker interference detected!
Wikia is a free-to-use site that makes money from advertising. We have a modified experience for viewers using ad blockers

Wikia is not accessible if you've made further modifications. Remove the custom ad blocker rule(s) and the page will load as expected.