Back to Places
Description
Edit

Steel Rail Mine, detailed walktrough in the Side quest The Cry from the Deep. At the mine entrance is one Ice Claw (+1 Encumbrance) ,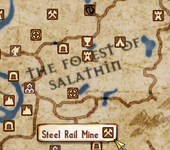 The Steel Rail Mine, as the quest journal defines, is northeast of Giliad , and southeast of Furtsanden . Following either the road or the associated rail through the wilderness will eventually reach the mine.
Occupants
Edit
Part 1
Part 2
Part 3

NPCs

Creatures

NPCs

Creatures

Boss

Creatures

Boss
Items/Rewards
Edit
Special loot when exit the Mine after dealing with Oslian is Nexus Axe of Insanity.
Armor

Scrolls

Potions

Books

Other

Ingredients

Chests/Containers

Minig Stones

Plants

Weapons

Silver Shortsword (on Foreman Muc)

Armor

Magic Items

Scrolls

Books

Potions

Valuables

Other

Chests/Containers

Minig Stones

Plants

Special Loot

Weapons

Steel War Axe (on Master Smith)

Armor

Magic Items

Books

Scrolls

Other

Potions

Chests/Containers

Minig Stones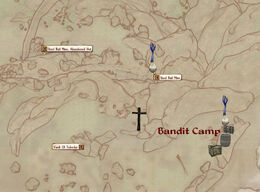 Coordinates for Map marker: Wilderness (-1, 7)
Occupants
Edit
Items found
Edit
Plants
A Bandit Camp is situated above the mine in the mountains. Down below the mine is found an Abandoned Hut.
Levels/Rooms
Edit
A very dangerous mine with 3 levels.
Cell name: Steel Rail Mine
Editor ID: StahltrossMinePart01 / StahltrossMinePart02 / StahltrossMinePart03
Tips/Notes
Edit
You can explore the hut just outside the Steel Rail Mine.
Ad blocker interference detected!
Wikia is a free-to-use site that makes money from advertising. We have a modified experience for viewers using ad blockers

Wikia is not accessible if you've made further modifications. Remove the custom ad blocker rule(s) and the page will load as expected.