Back to Places
Description
Edit

A dungeon full of Mages, thus a great place to earn some money (from selling scrolls) and collect more advanced alchemy equipment. To open the first Gate, turn left (when facing the gate) and you should notice a small blue Switch Button which will open the gate. The dungeon may be a bit dangerous, as the Mages often comes in groups of three, so you will have to deal with three mages at once. What is more, there is a deadly crate (Iron Thorns) that can squeeze you and kill instantly. To avoid the confrontation with the trap, wait safely until it passes by you and then run and turn left to jump on the nearest structure that is above the water. Then wait for the trap again and repeat the tactics again until you reach safety.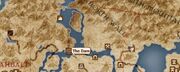 Beyond the village of Mahrnitz.
Occupants
Edit
NPCs
Creatures
The Mana Forge
Edit
Boss
Items/Rewards
Edit
The Mana Forge
Edit

Note
Coordinates for Map marker: Wilderness (-24, 25)
Upper the second entrance is found a camp with Hill Giants.
Occupants
Edit
Levels/Rooms
Edit
Two levels with two entrances, large place.
Level 1: Dam - Editor ID: NordreichstaudammPart01
Level 2: The Mana Forge - Editor ID: NordreichstaudammPart02*
Tips/Notes
Edit
Ad blocker interference detected!
Wikia is a free-to-use site that makes money from advertising. We have a modified experience for viewers using ad blockers

Wikia is not accessible if you've made further modifications. Remove the custom ad blocker rule(s) and the page will load as expected.