Back to Places
Description
Edit

A chilly tower with a lot of ice and Frost Elementals. The tower is guarded by two Frost Elementals.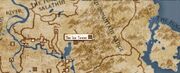 On Ice Tower Plain, very close to the House of the snow witch.
Occupants
Edit
Creatures
Items/Rewards
Edit
Enchanted Armor

Potions

Magic items

Scrolls

Chests/Containers

Plants
Coordinates for Map marker: Wilderness (5, 5)
Occupants
Edit
Items found
Edit
Nothing.
Levels/Rooms
Edit
One level, medium ruin.
Cell name: Gerophor Vault - Editor ID: GerophorPart01
Tips/Notes
Edit
Ad blocker interference detected!
Wikia is a free-to-use site that makes money from advertising. We have a modified experience for viewers using ad blockers

Wikia is not accessible if you've made further modifications. Remove the custom ad blocker rule(s) and the page will load as expected.