Back to Places
Description
Edit

The Old Lighthouse is just one tower. However, the fortress underneath is called Tower Ruin. In order to reach the Lighthouse and the Spirits hidden there, you need to deal with the ruins first. The ruins are pitch dark, so it is recommended that you have a torch with you. When you become to a place where you are stuck and there seems to be a dead end, it means that you need to jump one of the stone pedestals/stands near the movable crates and jump to the other side. You will need acrobatics at a decent level (at least about 9), but if you have some probles with jumping, you should have already come across an unfortunate adventurer whose body has Fortify Acrobatics potion. More detailed description of the dungeon can be found in the description of the quest Predatory Bird.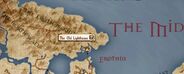 In The Eroth Mountains, north of Old Port of Erothin and Waterfront.
Occupants
Edit
NPCs
Creatures
Items/Rewards
Edit
Armor

Fur Boots (on Adventurer)
Fur Greaves (on Adventurer)
Leather Bracers (on Adventurer)
Leather Cuirass (on Adventurer)
Leather Gauntlets (on Adventurer)

Potions

Other

Chests/Containers
Coordinates for Map marker: Wilderness (-7, 29)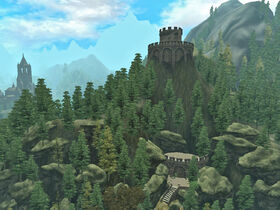 Occupants
Edit
Items found
Edit
Levels/Rooms
Edit
One level, medium ruin.
Cell name: Tower Ruin - Editor ID: NQHeleneDungeon01
Tips/Notes
Edit
Ad blocker interference detected!
Wikia is a free-to-use site that makes money from advertising. We have a modified experience for viewers using ad blockers

Wikia is not accessible if you've made further modifications. Remove the custom ad blocker rule(s) and the page will load as expected.