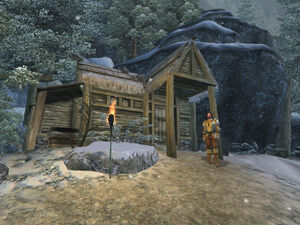 Back to Places
Description
Edit

A small isolated shack with the hunter standing in front of it. The places is inaccessible and the NPC does not offer any services or give quests.
On the road West of Sarnor
Occupants
Edit
None
Items Found
Edit
Some random loot from the Crates next to the shack.
Ad blocker interference detected!
Wikia is a free-to-use site that makes money from advertising. We have a modified experience for viewers using ad blockers

Wikia is not accessible if you've made further modifications. Remove the custom ad blocker rule(s) and the page will load as expected.