Places

North of Treomar, west of Treomar, North Gate.
Coordinates for Map marker: Wildernes -40, -3
Description
Edit
A ruined harbor sealed by a magical fire barrier. Place stopped in time and space with flyng ships all over the place. There is no acces and nothing to find here.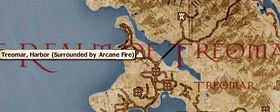 Ad blocker interference detected!
Wikia is a free-to-use site that makes money from advertising. We have a modified experience for viewers using ad blockers

Wikia is not accessible if you've made further modifications. Remove the custom ad blocker rule(s) and the page will load as expected.