Back to Places
Description
Edit

The ruins are guarded by one Water Elemental. The ruins are full of watery creatures of magic. There are a few corpses to loot and to proceed, you will need to step on some Pressure Plates. The first Pressure Plate can be found in the boss chamber, between two Arcane Stone stands ( to the west). Watch your step in the boss room, as there is a trap in the middle of the room. The boss does not leave much gains, but search the body nearby and you will notice some enchanted armor parts.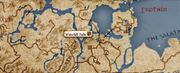 Occupants
Edit
Items/Rewards
Edit
Armor/Apparel

2 Black Sallet (on Soldier's.Corpse)
Flax Tunic (on 3.Corpse)
Laced Leather Pants (on 4.Corpse)
Patched Vest (on 4.Corpse)
Buckled Shoes (on 3.Corpse)
Stitched Leather Shoes (on 4.Corpse)
Huntsman Leather Pants (on 3.Corpse)
Iron Boots (on 2.Corpse)
Iron Gauntlets (on 2.Corpse)
2 Rusty Iron Greaves (on Soldier's.Corpse)
2 Middlerealm Shield (on Soldier's.Corpse)
Mithril Boots (on Corpse)

Potions

Books/Notes

Apparatuses

Scrolls

Weapons/Ammunition

Silver Shortsword
2 Rusty Iron Shortsword (on Corpse)
2 Fine Steel Dagger (on Soldier's.Corpse)

Ingredients

Other

Valuables

Chests/Containers



Coordinates for Map marker: Wilderness (-15, 21)
OccupantsEdit
Items found
Edit
Mound with:
Plants
Levels/Rooms
Edit
One level. medium ruin.
Cell name: Waterfall Halls - Editor ID: HallenderWassergefaelle
Tips/Notes
Edit
The hidden chamber in the throne room is opened by a pressure plate in that room which the water elemental starts off standing on.
Ad blocker interference detected!
Wikia is a free-to-use site that makes money from advertising. We have a modified experience for viewers using ad blockers

Wikia is not accessible if you've made further modifications. Remove the custom ad blocker rule(s) and the page will load as expected.